Mobile App (iOS & Android)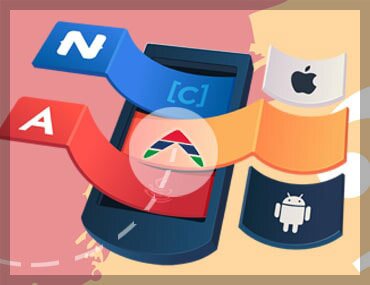 We transform your website/ business idea into Mobile App, and make it in reach of every hand held gadgets. Our proven capabilities in mobile development put us in a unique position to provide the best of end-to-end custom solutions. We use Nativescript, this platform facilitate flexibility to develop App for Android, iOS or on almost at every platform. NativeScript applications use native components and access the native APIs directly. Compristion of nativescript platform with other competetors.
Your App's smooth navigation and live interface will be focused on providing your product/ services in better way. Here we are showcasing few of our Apps which are live at google PlayStore & App Store.
Tarot Solution App
This app is offline solution on Android and iOS developed in Nativescript. This has received immense popularity which was launched in Capital of India. This Lifestyle application developed by Dr Seema Midha which facilitates their users to know the interpretation of Tarot card drawn by them on daily basis. The card is drawn per user per day and specific subject.
Point of Sale APP
POS Mobile App enables you to implement all of your business processes efficiently over cloud. Retail companies of all sizes may use it to integrate their local/ global distributed POS systems. The App is fully tested, functional and upgradable. Your custom modifications will continue to work perfectly after updates.
Business Challenges: Introduce consistent processes in all retail outlets – in near-real time. React flexibly to process changes. Connect POS systems with all SAP solutions and software. Improve service and support through automatic updates, central specifications, and company-wide monitoring, while reducing cost.
Business Benefits: Facilitated compliance with tax regulations and established standards Reduced operating and development cost. Higher efficiency through full integration of retail outlet processes with your central SAP software. Streamlined processes by using a single solution in all countries where your company operates.
Online Agri Trade APP
We have conceptualized Mobile and Web based "E-Solution on Agriculture Markets" with implementable initiative. Keeping in view the aforesaid factors in mind, we have designed a low cost solution with the features envisaged by Govt of India/ State Govt through recent Reforms in Agriculture Marketing, the salient features of the application are defined here under:-
Transparency in the Trade
Capture Auction details through Mobile/Tablets
SMS alert to producer, buyer and traders
Throughput analysis (Upstream and downstream of produce in the market)
Produce traceability (Quality, variety, price and producing village/region)
Web based E-trading platform through Virtual Markets
Provide market access to farmers/buyers
Providing Market Research Analysis
Facilitate efficient and effective market information system for the benefit of all stakeholders.
Price behaviour for short terms and long terms
Integration with existing Systems and provision for future E-National Markets Capacity Building (Farmers/ Private players/ Govt Officials)